7 most asked questions about Walink
---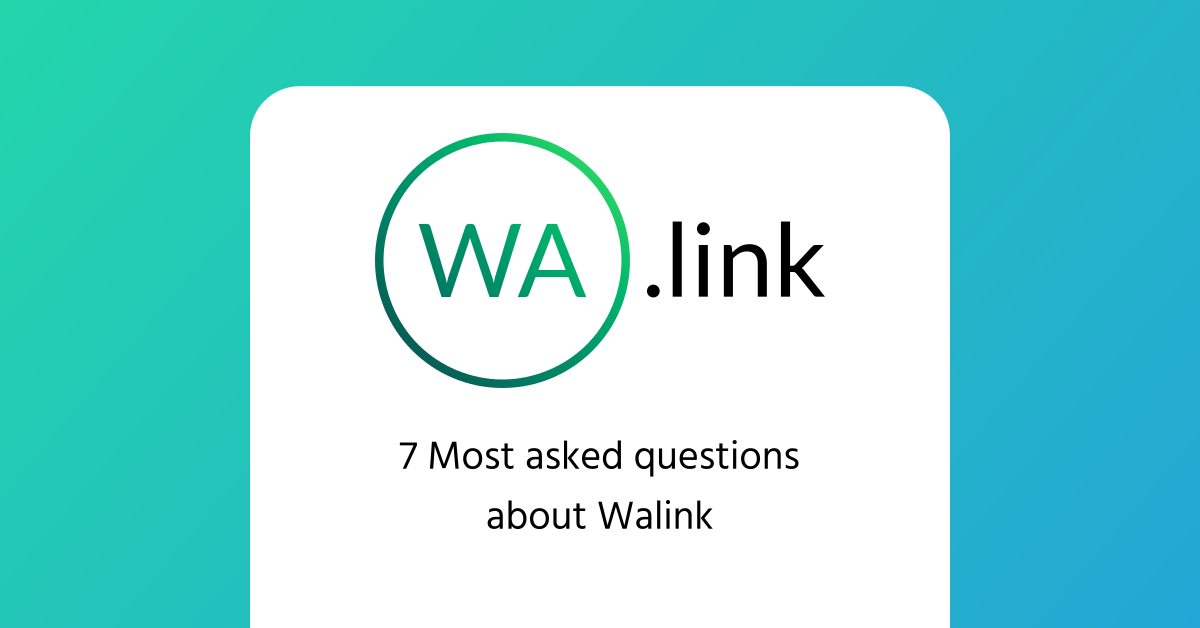 Today we end this 3-part series of articles with the 7 most asked questions about Walink users usually make on our platform. If you want to know more about WhatsApp and WhatsApp Business take a look at the previous articles on the most asked questions on the internet about those topics:
What is Walink?
Walink is a web platform for people to create enhanced WhatsApp links to make better and more effective connections with customers in the app.
Every day more and more people are sharing Walinks instead of their WhatsApp number to start conversations in the app, that way users don't need to save a phone number to contact another person or business and can create multiples links for different purposes.
Is Walink in my country?
You can use Walink in the same 180+ countries you can use WhatsApp. You can even access using a secure VPN to protect your information, if the network allows it.
You will never have to save another phone number to start a conversation in WhatsApp. With Open Walink enter the phone number or link in the app an start texting in 1 click for free!
Do Walink short links cost anything?
You can use our free links generator to create all the WhatsApp short links you need for your business without having to register nor pay any fees. Simply enter your WhatsApp number and message in the generator to get a WhatsApp short link like wa.link/xyz and a QR code to download.
You can also create branded WhatsApp links like wa.link/MyBusiness for $6 USD a year per link, to improve brand awareness, get click analytics and more.
Is Walink owned by WhatsApp?
No, Walink Inc. is an independent company neither associated with nor sponsored by WhatsApp Inc.
Does Walink collect users' private data?
No. Only branded links collect generic info from click to provide analytics to the owner of these links.
To keep communications between business and users as transparent as possible, links do not collect any private information from users, track their IP address nor use cookies. Next is a list of data you will get from clicks:
Source of clicks (e.g: social media platforms)
OS (e.g: Android)
Country (e.g United States)
How can I add a wa.link to my Instagram bio?
We have a complete article on how to add a WhatsApp link to Instagram bio and other types of content. But the short answer is: simply go to your profile and edit it, then you can add your wa.link on the website input field.
Create your own branded WhatsApp links like wa.link/MyBrand. Register at Walink Premium and make your business grow with branded links, Multilink page, Multiagent service and more from $6 USD a year.
How can I create branded WhatsApp short links?
At Walink Premium you can create branded WhatsApp links with names of your choosing, edit the links' info anytime, get analytics and even create your own Multilink page to group multiple branded links under a single page.
---
📧 Newsletter
Want to keep up with the latest news of Walink? Subscribe to our newsletter and
get a 2x1 discount code on your first 2 links at Walink Premium! 👑