How to add WhatsApp link to Instagram bio
---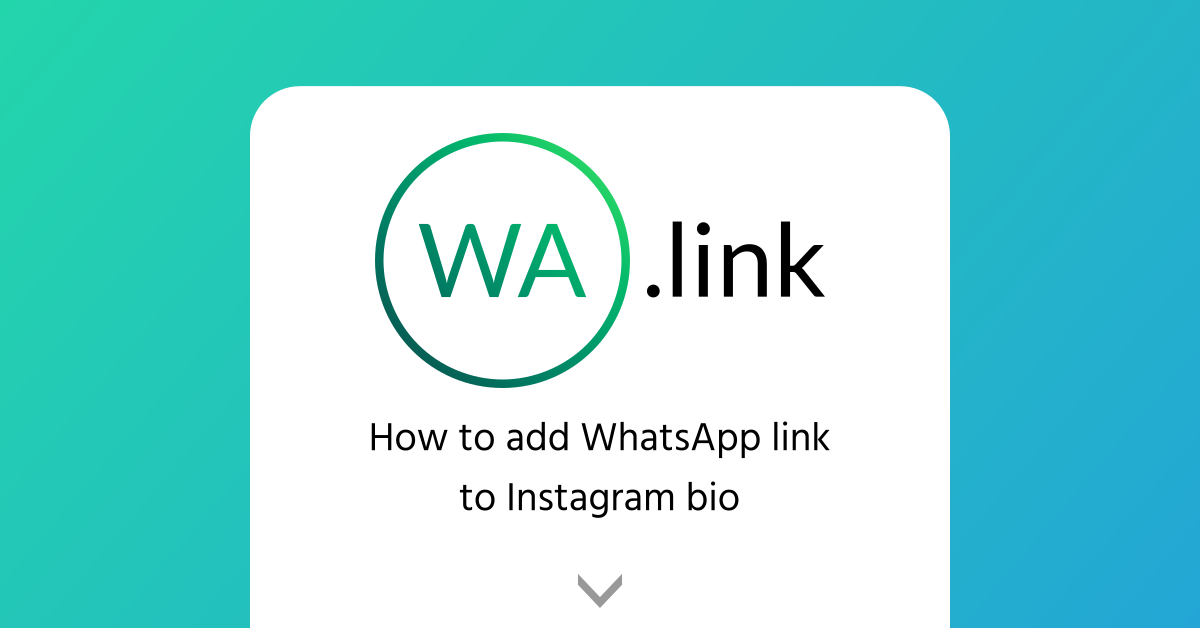 Every day WhatsApp links grow stronger as one of the best commercial alternatives for business to interact with customers and get better sales results.
Like any other URL these links are easy to share in any digital channel and really flexible as when one clicks a link WhatsApp will open no matter which app is installed in our device (WhatsApp, WhatsApp Business or WhatsApp for desktop), even if there is no app installed the chat can be reached in a web browser.
In this article we will teach you how to add WhatsApp link to Instagram bio to reach more clients using your wa.link (s).
Create your own branded WhatsApp links like wa.link/MyBrand. Register at Walink Premium and make your business grow with branded links, Multilink page, Multiagent service and more from $6 USD a year.
Why use wa.link on Instagram?
Instagram is a prefered channel for business to use their wa.link for 3 main reasons:
99% of people use Instagram in their smartphones: that way users are prone to start a conversation after clicking the link as they reach the chat directly without stoping by a web page (like clicking the link on desktop does).
Instagram allows just 1 link in bio: this increases the Click Through Rate (CTR) of your link because it is easy for users to find and click.
wa.link shortlinks: every link created in Walink is shortened so they are more aesthetic and appropiate for your Instagram bio.
Connect Instagram to WhatsApp
Now you know why you should use WhatsApp links on Instagram, but there are 3 ways you can share them in the social network to let users "click to chat".
How to add a WhatsApp link to your Instagram bio
As we mentioned before, Instagram allows you to enter 1 URL in your bio. If you already have a link there and you want to add your wa.link you will need to replace it.
To add the link to your bio click the "Edit profile" button and then paste your link in the "Website" field: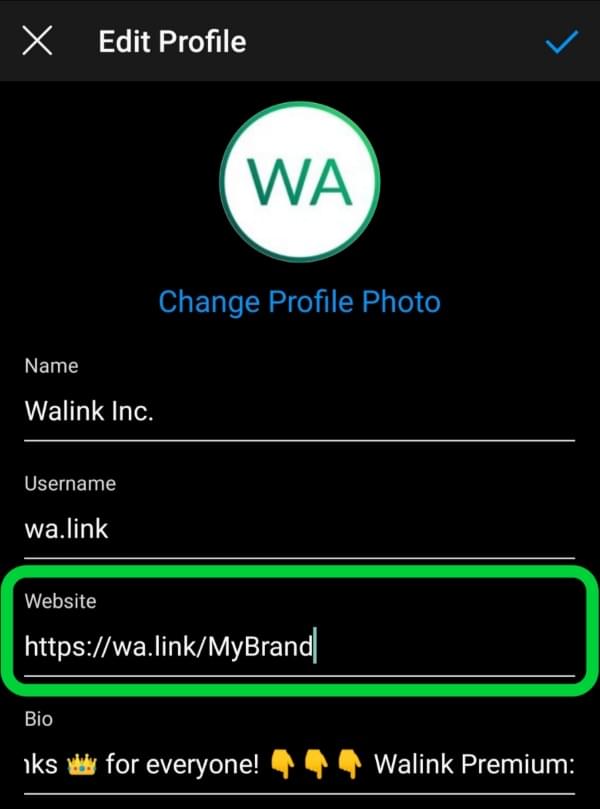 Using a branded link is way more effective to attract customers. Go create your branded links in Walink Premium .
Remember to paste the link in the "Website" field or users won't be able to click it and you could lose a lot of customers for that.
Add the link to your promoted posts
You can't share clickable links on regular posts, but there is an alternative on Instagram to share links on ads campaigns.
Whether you are a pro and use business.facebook.com to create ads campaigns or simply promote your posts on Instagram, ads let you share your WhatsApp links to interact instantly with your customers without them having to go to your profile first.
Share WhatsApp links in your stories
When you reach 10.000 followers on Instagram, the platform enables the option to add links to your stories! giving you a lot more opportunities to share a direct access to your chat.
You will never have to save another phone number to start a conversation in WhatsApp. With Open Walink enter the phone number or link in the app an start texting in 1 click for free!
Other recommended channels for your WhatsApp links
Instagram is a great platform for your wa.link(s), but it is not the only one you should use to share links. The more platforms you use the better results for your business.
Besided, every link you create on Walink gets its own QR code that you can publish on any digital channel and is perfect for traditional media too like TV, radio and printed media. Learn about this and more features in this article: 7 Benefits of using Walink short links.
We recommed you share your links here too:
Facebook
Twitter
Pinterest
Email
Literally any platform where your business interacts with customers.
---
📧 Newsletter
Want to keep up with the latest news of Walink? Subscribe to our newsletter and
get a 2x1 discount code on your first 2 links at Walink Premium! 👑