How to search for businesses in WhatsApp
---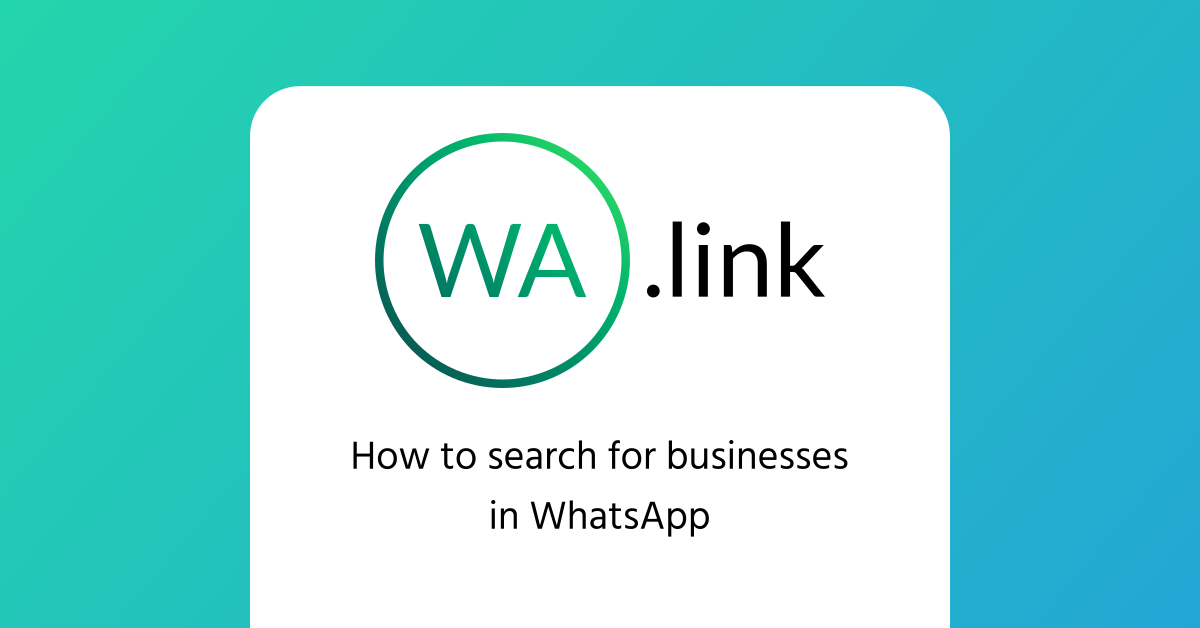 Until recently, to chat in WhatsApp with a business you had to save their phone number in your device first or look for their WhatsApp links and QR codes on social media. At the end of 2020 we launched Open Walink to open WhatsApp chats without saving contacts in your smartphone. Now you can discover businesses using WhatsApp in your area with our WhatsApp link search engine.
What is Walink's WhatsApp link search engine
"Search Walink" is a new feature in our platform that lets you search for businesses using WhatsApp in your area and chat with them in 1 click, if a business use a branded wa.link you will find it in our search engine. This is perfect when you are looking for something, but you don't have an specific business in mind or don't know their phone number to contact them.
How to use Search Walink
Go to walink.io/search-walink.
Enter the name, description, or type of business in the search bar and click the button to find some results.
You can filter results by country, city and category.
To chat with a business simply click on the result card.
Find businesses in this categories using WhatsApp
Advertising/Marketing
Agriculture & Farming
Arts & Entertainment
Automotive, Aircraft & Boat
Beauty, Cosmetic & Personal Care'
Commercial & Industrial
Education
Finance
Food & Beverage
Hotel & Tourism
Legal
Media/News Company
Medical & Health
Non-Governmental Organization (NGO)
Nonprofit Organization
Public Figure
Public & Government Service
Real Estate
Services & Consulting
Shopping & Retail
Software & Internet
Sports & Gym
Technology
Travel & Transportation
How to get listed in the WhatsApp link search engine
To get listed in Search Walink you need to purchase a branded link in Walink Premium , once you create the Premium link you will find the option to enable it to appear as a result of the search engine and add the information required for the result card:
Logo
Link title
Description
Country
City
Categories
---
📧 Newsletter
Want to keep up with the latest news of Walink? Subscribe to our newsletter and
get a 2x1 discount code on your first 2 links at Walink Premium! 👑