3 Ways to get more chats in WhatsApp and increase conversion rate
---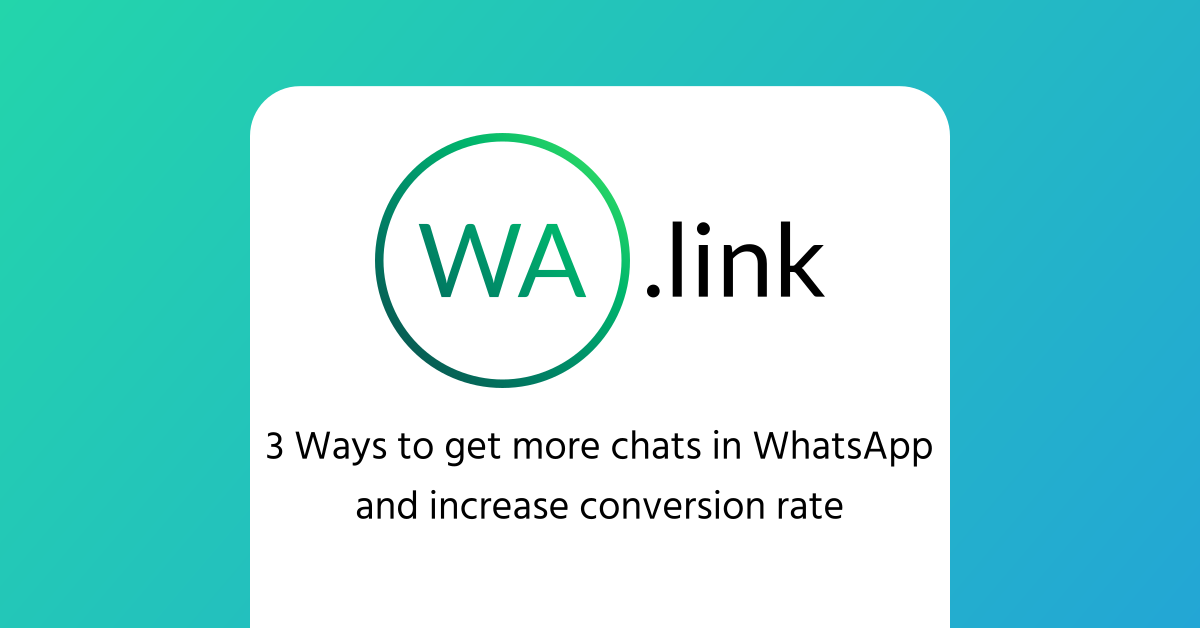 At Walink we consider the main key for a profitable business in WhatsApp is to know how to lead people to your chat, because in the chat you have full control to turn users into customers. We are going to tell you about 3 ways to get more chats in WhatsApp and increase conversion rate to help you reach your business goals.
1. Create one or more branded WhatsApp links
"People remember brands not phone numbers" is a phrase we published a while ago in our social media and every day that passes it makes more sense.
We see thousands of businesses sharing their WhatsApp phone number on digital and traditional media, but what they don't take into account is that people often lack time or interest to save a phone number in their phone address book unless they really have an urgency to acquire what's being offered.
A branded link for WhatsApp like wa.link/MyBrand avoids this predicament and it's one of the most effective ways to lead customers to your WhatsApp, as the user can simply click the link to chat or remember your brand (instead of a phone number) to text you later.
You can create your own branded links and more at Walink Premium from 6 USD a year.
Create your own branded WhatsApp links like wa.link/MyBrand. Register at Walink Premium and make your business grow with branded links, Multilink page, Multiagent service and more from $6 USD a year.
2. Add a custom message
While a branded link helps getting more customers in your WhatsApp, a custom message will help increase the conversion to chats.
You can add a custom message to your WhatsApp link so users may send it to you once they are in the chat (e.g: Hi, I'm interested in your products). Keep in mind this is not an automatic message from your part which we will talk about as the 3rd way to get more chats in WhatsApp and increase conversion.
It's important for you to know that not every click in a WhatsApp link is a chat. In the end, the user will be the one who decides whether to send you a message. At Walink, we've found that a custom message can increase the amount of converted links (into chats) from 3 times, because users won't have to think about how to start the conversation, they just need to send you the message you already wrote.
You can test this by using our free WhatsApp shor link generator and adding a custom message to your links.
3. Set up an automatic greeting message
This type of messages are created directly in WhatsApp Business and will be sent to the users at the moment they text you, that is, when they decide to initiate the chat. These messages will be of great help to welcome users and let them know you'll answer their questions soon.
To learn more about the automatic greeting message in WhatsApp and other features you can read 5 Essential settings to start selling on WhatsApp Business.
By using the 3 ways to get more chats in WhatsApp and increase conversion rate you will see your sales grow and become a profitable business model. Sharing branded links increases brand awareness and the number of people that reach your WhatsApp chat; a custom message multiplies the amount of users who start a conversation; and an automatic greeting message builds trust and improves the chances of closing deals.
Once you have a continuous flow of users in the app, we strongly recommend to focus on these 10 keys to deliver great customer service in WhatsApp.
---
📧 Newsletter
Want to keep up with the latest news of Walink? Subscribe to our newsletter and
get a 2x1 discount code on your first 2 links at Walink Premium! 👑