5 Essential settings to start selling on WhatsApp Business
---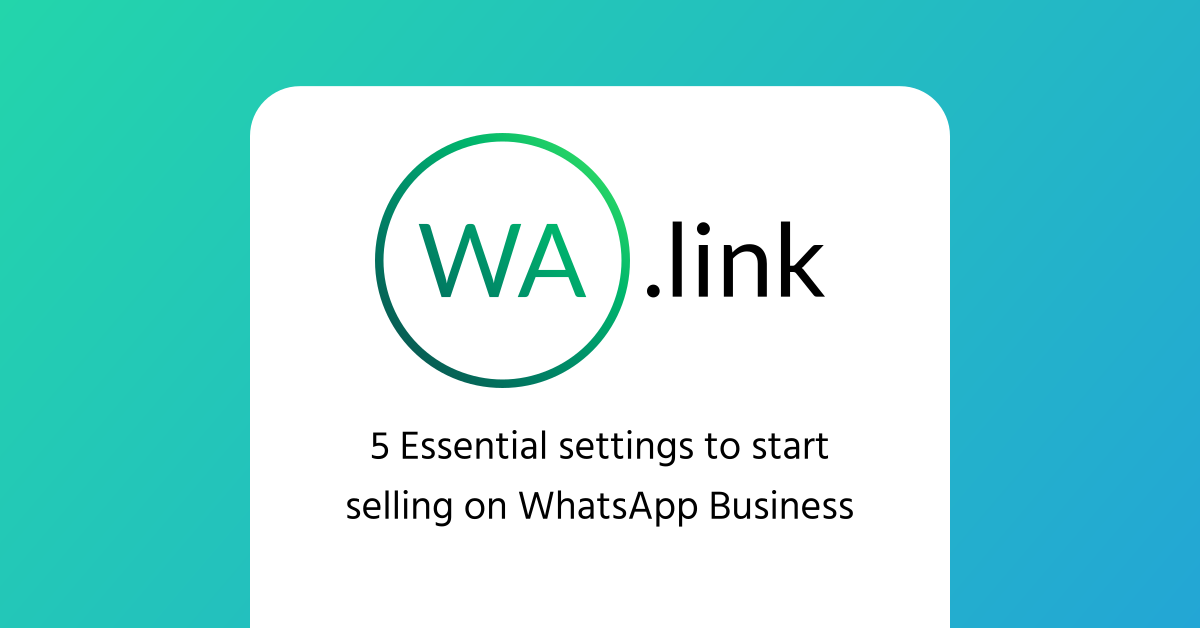 Nowadays more and more people bet on the future of ecommerce in instant messaging apps. According to WhatsApp reports, more than 175 million people message WhatsApp Business accounts every day, and there are more than 50 million businesses in the app willing to deliver a more personalized customer service via text messages.
There are less entry barriers in WhatsApp for a person to start a business in it than in other platforms, and every day it is easier to do it! That is why we want to share 5 Essential settings to start selling on WhatsApp Business like a pro.
If you haven't installed WhatsApp Business yet or don't really know what we are talking about you can read: What is the WhatsApp Business app.
You will never have to save another phone number to start a conversation in WhatsApp. With Open Walink enter the phone number or link in the app an start texting in 1 click for free!
Business profile settings
First impressions are matter, so organizing your business profile can let users know how good your customer service will be without even sending the first message.
Profile photo: Avoid using generic photos, use your brand logo or an image that can be easily related with your business.
Business description: Add a simple but engaging description of your business.
Business hours: Select the working hours of your customer service in WhatsApp, this is not only relevant information about the business, but will let you create automatic messages later in the app.
These are the 3 most important settings in your business profile to start selling on WhatsApp Business. We also suggest to fill the rest of the information available if it's important for your customers.
Privacy settings in WhatsApp
Privacy settings allow for a transparent and honest customer service.
Last seen: Enable this option for everyone.
Profile photo: Everyone should be allowed to see your profile photo.
Read receipts: Users who text your business have the right to know when you read their messages. Great customer service gets noticed when you don't ignore your customers.
Much like the profile settings, try setting up the other options in this section to your business needs.
Chat backup
Make sure you set up an automatic chat backup in Google Drive (on Android) or iCloud (on iPhone) on a weekly or daily basis depending on how much you message customers. That way you won't have any issues recovering the info if the device is lost, damaged or if you change the device.
After the automatic backup is set, you can proceed to the final 2 essential settings to start selling on WhatsApp, settings which will increase the performance to deliver great customer service in WhatsApp.
How to create a chat backup manually
To manually create a chat backup please refer to the official WhatsApp documentation:
Create your own branded WhatsApp links like wa.link/MyBrand. Register at Walink Premium and make your business grow with branded links, Multilink page, Multiagent service and more from $6 USD a year.
Automatic messages for WhatsApp Business
WhatsApp allows business accounts to create automatic messages that will be sent to users who text in 2 scenarios:
Away message: You can set it to be sent to users when you won't be able to reply like after business hours. We recommend you set this message for everyone.
Greeting message: It will be sent to users who message you for the first time or after 14 days of no activity. We suggest you set this message for everyone excluding your contacts.
Automatic messages are an excellent tool to start conversations with users and let them know that even if you are away at the time you will text them later.
Quick replies for WhatsApp Business
It is good practice to create quick replies to increase productivity and response time in the app. This are perfect to have answers ready for frequently asked questions or even manage conversation cycles consistently in every chat.
Quick replies let you create shortcuts (e.g: /thankyou) that when typed a complete message will be prompted like: "Thank you for your purchase. We hope to hear from you soon".
This last setting can make a big difference when receiving dozens or even hundreds of chats daily. It is essential from the moment you start selling on WhatsApp Business.
---
📧 Newsletter
Want to keep up with the latest news of Walink? Subscribe to our newsletter and
get a 2x1 discount code on your first 2 links at Walink Premium! 👑