7 most asked questions about WhatsApp
---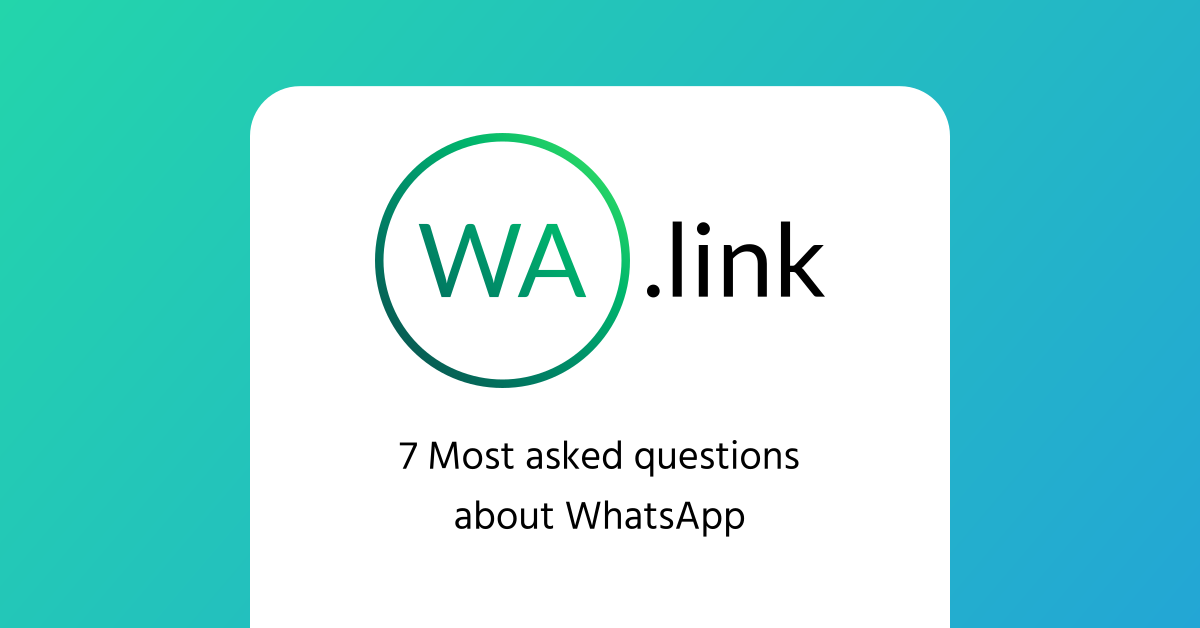 As you may know WhatsApp is the most used instant messaging app in the planet, literally billions of monthly active users connect with other people and businesses. Every day there are lots of questions about WhatsApp in forums, blogs, social media and even our platform, so we decided to compile the 7 most asked questions about WhatsApp.
This is the first of a 3 part series of articles we will publish in the coming weeks with the most asked questions about WhatsApp and business in the app. These questions were selected based on our own criteria and don't correspond with any official WhatsApp information or third party list or rankings.
You will never have to save another phone number to start a conversation in WhatsApp. With Open Walink enter the phone number or link in the app an start texting in 1 click for free!
Who invented WhatsApp?
WhatsApp Inc. was founded in 2009 by Jan Koum and Brian Acton .
Fun fact, the initial idea for WhatsApp wasn't a messaging app, but a way to apply a status to the phone's address book to let friends know whether or not they were available for calling, similar to the MSN messenger status (do you remember it?). Here you can read more about it: How Jan Koum got the idea for WhatsApp .
Who owns WhatsApp?
Back in 2014 Mark Zuckerberg, Facebook's founder, announced the acquisition of the instant messaging app for $19 billion US Dollars to expand Facebook's user base. To this day Facebook still owns WhatsApp Inc.
Jan Koum and Brian Actos are no longer part of WhatsApp Inc, actually Brian is the founder of Signal Technology Foundation, a non profit organization responsible for the Signal app which has become pretty popular these days due to the controversy over WhatsApp's privacy policy that we will mention later.
Is WhatsApp free?
WhatsApp is free for personal use and even business accounts can use it for free.
The app started charging $1 dollar to iOS devices but has always been free for Android smartphones. Just before Facebook's announcement in 2014, WhatsApp was going to charge everyone \$1 dollar annually after the first 365 days of use.
Is it possible to have more than 1 account with 1 phone number?
Your account is assigned to a phone number when you create it, that is how WhatApp can identify you as the owner of the app. For that reason, it is not possible to create more than 1 account with 1 phone number, at least not for now.
How does WhatsApp make money?
It is not easy to imagen how an app with billions of people using it for free can make money. One of the options these kind of platforms have is to offer a free service like our WhatsApp link generator and at the same time create a Premium or paid version expanding the tool's features. However, WhatsApp does not offer paid services, so how can one justify a $19 billion dollar purchase?
Business are born to generate profit, at that time Facebook purhcased WhatsApp to increase their user base, as Facebook sell the possibility for businesses to advertise in the platform, more users mean more opportunities for businesses, hence more money for Facebook.
It really is more complex than that but, basically WhatsApp is now a source of information for Facebook, if Facebook can help businesses make more money they also make more money. In order to do that, Facebook must distribute the ads properly amongst people who may be more interested in the products and services being offered (according to the ads settings made by the business), and to do so in the best way possible information about those users is key.
Is WhatsApp selling my data?
No.
Learning a little bit more about how WhatsApp makes money, you should know there are ethical and legal limits on how much information can be obtained over user activity. Rest assure, WhatsApp won't sell your personal information, let us explain:
On one side, no one (not even WhatsApp) can access your conversations. Only you and the ones you text can read the messages, as conversations are user to user encrypted, meaning, no one outside the chat can decrypt what's being said in it.
Also, WhatsApp will never sell your activity information to any business. Advertisers have no access to users' private information, they are only allowed to create and set ads campaigns to be delivered to potential customers. WhatsApp only collects the data to provide better chances of success to advertisers according to the ads campaigns settings, that way users get to see more relevant ads for them.
You can read more about the changes in WhatsApp's privacy policy here .
Create your own branded WhatsApp links like wa.link/MyBrand. Register at Walink Premium and make your business grow with branded links, Multilink page, Multiagent service and more from $6 USD a year.
How can I sell products and services in WhatsApp?
Creating an account and sending messages is not enough to sell products and services via WhatsApp. Here you have a list of our blog posts to start selling in the app and do it like a pro:
---
📧 Newsletter
Want to keep up with the latest news of Walink? Subscribe to our newsletter and
get a 2x1 discount code on your first 2 links at Walink Premium! 👑