7 most asked questions about WhatsApp Business
---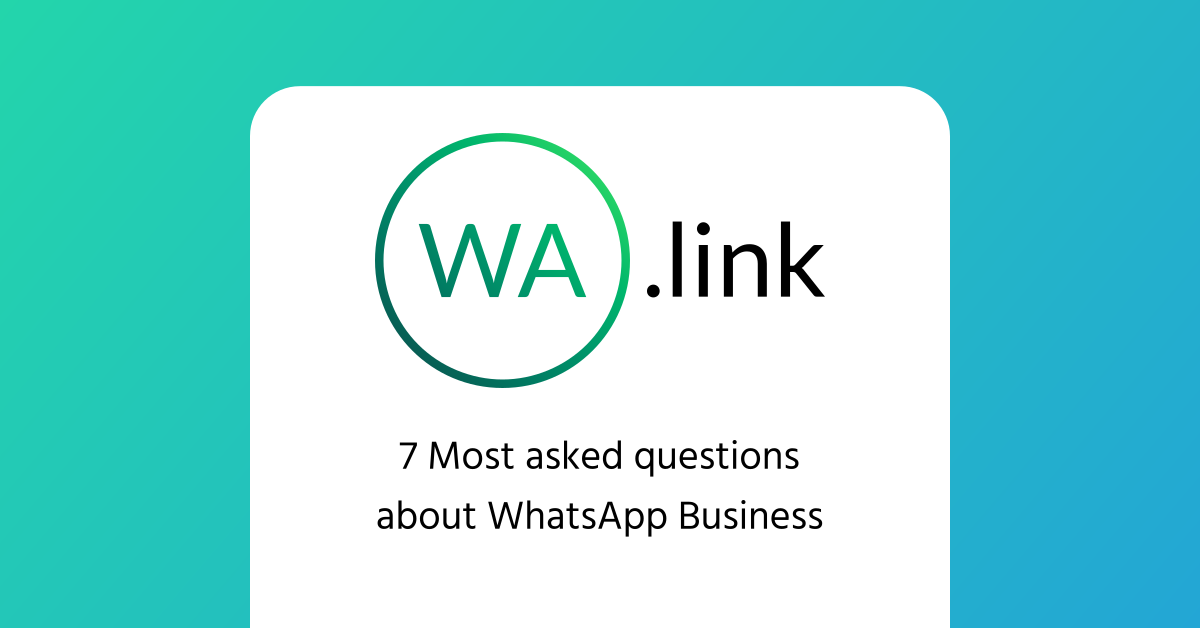 If you are thinking about creating a business with customer service in the app, WhatsApp Business is the tool you must use to expand your potential to get clients. Continuing with this 3-part series of what people ask about WhatsApp on the internet, today we will review the 7 most asked questions about WhatsApp Business.
What are the benefits of a WhatsApp Business account?
When you create a WhatsApp Business account you will see the app is basically the same as the normal version, but you'll get additional options and settings that will make it easier to work with as a business and get better results.
These are the benefits of a WhatsApp Business account:
WhatsApp will inform users who text you that they are in chat with a business.
Assign your WhatsApp Business to the contact button in a Facebook fanpage and use the same account for your ads.
Add work hours, website, and email to your business profile.
Set up automatic messages and quick replies to optimize the time spent with each customer.
Create a products and services catalog that lets users add items to a shopping cart and then send it as a message.
You can read more about what is the difference between WhatsApp and WhatsApp Business by clicking the link.
You will never have to save another phone number to start a conversation in WhatsApp. With Open Walink enter the phone number or link in the app an start texting in 1 click for free!
Can I have a WhatsApp Business account?
Anyone can create a WhatsApp Business account with their phone number. But creating it and using it are two different things you must consider as there are restrictions stablished by WhatsApp for some types of business that can lead to being banned.
Confirm if your business is not restricted to use WhatsApp by reading the WhatsApp Business policies and the commerce policy .
Reading those documents can save you a lot of time and inconveniences in case your business cannot comply with the policies
Does WhatsApp Business cost money?
No.
WhatsApp Business is a free app created for business of every size to deliver customer service in the app and even reduce additional cost that they would incur by using other tools for that purpose.
Is WhatsApp Business account safe?
Yes, security applied to the business version is the same as for the normal app.
Every WhatsApp account, including business accounts, are associated with a unique phone number which is how WhatsApp can verify the owner of that account. That is why it is important that YOU NEVER SHARE THE 6 DIGIT CODE WhatsApp sends for verification.
Also, chats remain end to end encrypted. That means no one outside the conversation (not even WhatsApp) can read your messages.
If you want to read more about the latest changes on WhatsApp's privacy policy click here .
Can I use the same phone number in WhatsApp Business?
Not at the same time.
As we mentioned in the last question, every WhatsApp account is assigned to a unique phone number that is used to verify the user. So if you want to create a business account, but only have 1 phone number, then you can only use WhatsApp business.
We recommend this article to learn how to change WhatsApp to Business.
How much Does WhatsApp Business API cost?
The WhatsApp Business API is a professional and advanced tool designed for businesses that want to automate certain tasks in WhatsApp like:
Purchase confirmations.
Chatbots to answer to frequently asked questions.
User verification.
You can only use the API with providers authorized by WhatsApp to offer those kind of automated messaging services. To use the API, you'll have to pay fees determined by the provider and according to the services you need.
Create your own branded WhatsApp links like wa.link/MyBrand. Register at Walink Premium and make your business grow with branded links, Multilink page, Multiagent service and more from $6 USD a year.
How Can I share my WhatsApp Business with other people?
All WhatsApp Business accounts include 1 link and a QR code you can share anywhere you like so people can contact your business easily. You can access these in Settings > Business tools > Short link however, sharing that link is not optimal for your business for 2 reasons:
It really isn't a "short" link and has lots of random characters that make it unappealing for users.
It is just 1 link, so you'll have to add a generic message to it, which is not effective to connect with users on different topics.
To solve these problems, we recommend that you use Walink:
Our free WhatsApp link generator to create unlimited WhatsApp short links you can use, for instance, in your ad campaigns.
Walink Premium to create your own branded WhatsApp links like ```wa.link/MyBrand``` for just $6 USD a year per link. These are better to get more effective chats and increase brand awareness.
---
📧 Newsletter
Want to keep up with the latest news of Walink? Subscribe to our newsletter and
get a 2x1 discount code on your first 2 links at Walink Premium! 👑