Essential tools to sell more on WhatsApp
---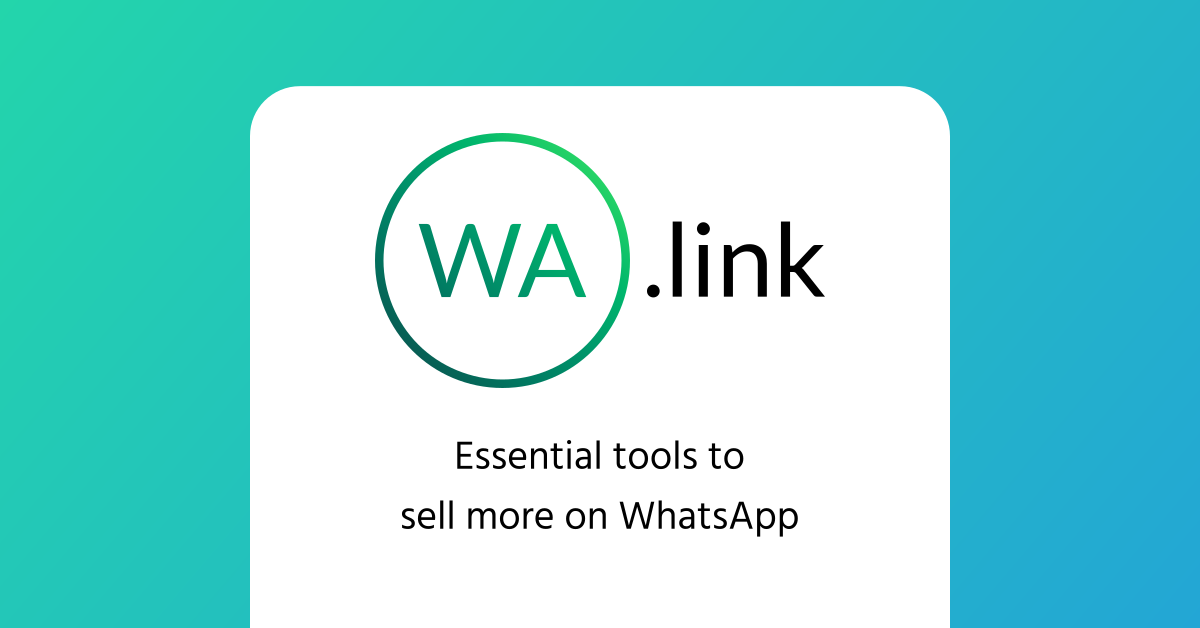 An Walink's blog we've stablished that downloading the app and sharing a phone number on social media isn't enough to sell on WhatsApp, using the right tools is a must to optimize our work and get desired results and it all starts by installing WhatsApp Business on our device. If you already have the app we recommend that you read about these 5 essential settings to start selling on WhatsApp Business so you set up a professional business account ready to engage with clients.
With the main tool ready, lets see what are the essential tools to sell more on WhatsApp and how they can make our business grow depending on the invested time, money and work.
Walink's link generator
We want to start with our own platform, as to sell more on WhatsApp you need to lead more customers to your chat and Walink offers various options to create WhatsApp links enhanced to effectively accomplish this objective. With a WhatsApp link, users can open a chat simply by clicking it without having to save your phone number, much more useful than sharing the phone number by itself.
When you share a phone number the user has to copy it (not so easy on many platforms), save it in the phone's address book and then they can open your chat. Your potential sales would depend on users willing to do all that and not lose interest, not to mentioned that you also are giving the option for users to call you, which is not necessarily bad, but you calls do keep us from communicating with other customers at the same time.
Here you have 3 ways to get more chats in WhatsApp and increase conversion rate in your business to get the most out of Walink.
Create your own branded WhatsApp links like wa.link/MyBrand. Register at Walink Premium and make your business grow with branded links, Multilink page, Multiagent service and more from $6 USD a year.
Google My Business
As we seek to get more customers in chat, internet visibility is important for your business and Google My Business is a great tool at hand and specially valuable if your business has physical address.
With Google My Business you can start by creating a digital "card" for your business and even one for every location with name, description, work hours, images, and website. Once verified by Google, cards will appear at the right side of search results when people search for stuff related to the info of your business.
We suggest that you take a look at the different options this tool has to offer as it can greatly increase the reach of your business, you can learn a lot about how users find you and publish your first ads to lead users to you WhatsApp chat.
Website
A website more than qualifies as an essential tool when we are talking about internet visibility to lead customers to WhatsApp, this tool, if used correctly and not as decor, can grow to be one of the main sources of traffic to your WhatsApp chat. On a website you can publish an endless amount of content that ill eventually grow your internet visibility and drive more users to contact you if you enable WhatsApp options on it.
Here are some alternatives to create your website:
Google My Business lets you create simple websites for free and no technical knowledge is required.
Other platforms where you don't need technical skills like Squarespace , Webflow , Shopify .
You can always hire a professional but make sure to detail exactly what you want, and it is better if you end up managing the site inhouse after development.
Payment gateways
Now that we are getting more users in the chat, an essential tool to sell more is clearly one that facilitates payments from clients, that's what payment gateways are. In addition, gateways provide security for transactions, guarantees that the money comes from a reliable source and you will centralize your income in a single account from which you can later transfer money to your bank account.
There are numerous payment gateways and some work better on some regions than others, so it would be difficult to list the ones that are better suited for your business. You should search for one that offers payment links that you can create at anytime with the sale description, pricing, and taxes (if needed). When you create a payment link you can share it with your customers in WhatsApp for them to click and pay for your products and services.
You will never have to save another phone number to start a conversation in WhatsApp. With Open Walink enter the phone number or link in the app an start texting in 1 click for free!
Marketing tools
With previous tools you already have an structured sales channel in WhatsApp and what's left is to grow your business' potential with marketing tools that will get many more users in your chat and improve how prone they are to buy your products and services.
These tools will demand more money to sell on WhatsApp, but they are also the ones that will get you better results if you use them properly and constantly learn from them.
Facebook's Business Manager
The first marketing tool we recommend for selling more on WhatsApp is the Business Manager from Facebook.
The Business manager is a platform where you can manage different digital assets you have Facebook like fanpages, Instagram profiles, ads accounts, users whom you can assign roles and permissions according to their job in the business manager. It really is a powerful tool for you to use and explore to make the most out of it. We suggest that you start by creating simple ads campaigns and then learn what other resources you can use to your advantage in the platform.
Facebook allows 2 options for you to create ads for your WhatsApp:
First one is to create campaigns based on WhatsApp chats, in this case the ads will have a button (Call To Action) directly to the WhatsApp phone number you set up in Facebook with your WhatsApp Business account.
Pros: Facebook will provide metrics on the exact chats you get from your ads.
Cons: You can only use 1 phone number.
The second option is to select campaign objectives that allow to send users to a "website". As WhatsApp links are exactly that, links, you can add them as the URL on the ads and users will get to your chat when they click the button.
Pros: You can use as many links as you need, different links for different ads and even multiple links on multiple images in the same ad.
Cons: Facebook won't show you metrics on chats, just clicks.
Email marketing platforms
Emails are still one of the most practical mediums to stablish lasting relationships with your customers that can lead to repurchases. Email marketing platforms allow you to send bulk emails with customizable content to your clients database, so you can stay connected to your customers in a way you cannot do in WhatsApp. And before you even think about sending bulk messages in the app, we remind you that this practice is prohibited by WhatsApp and can lead to a permanent ban of the account: WhatsApp Business policies .
We know that WhatsApp is now your main channel to connect with customers and it usually conversations don't involve emails. However, as you are becoming and expert on selling on WhatsApp and you know you can't send bulk messages in the app, because they are considered spam, we recommend that you offer the possibility to join you emailing list to people who buy your products and services. That way you get a valuable asset which you can use to continuously communicate with your customers and make your business more profitable each day.
Some of the most used email marketing platforms are Mailchimp , Sendinblue , Sendgrid . But you don't need to stick to these, look for one that better suits your needs.
Google Ads
Google Ads is the advance marketing tool to create ads with Google which, by the way, are not limited to only search results, but also include display network and Youtube.
Comparing both ads platforms:
On Facebook you will publish ads for people who may be interested in your products and services by defining your target audiences.
On Google Ads you will be showing ads to people who are already looking for your products and services or something related to them, so these may have a greater potential to get more customers in your chat.
Google ads is a tool anyone can use for their business perfect for WhatsApp links, but to maximize results you should start learning a lot about it.
---
📧 Newsletter
Want to keep up with the latest news of Walink? Subscribe to our newsletter and
get a 2x1 discount code on your first 2 links at Walink Premium! 👑