How to bring customers from tv and radio to WhatsApp
---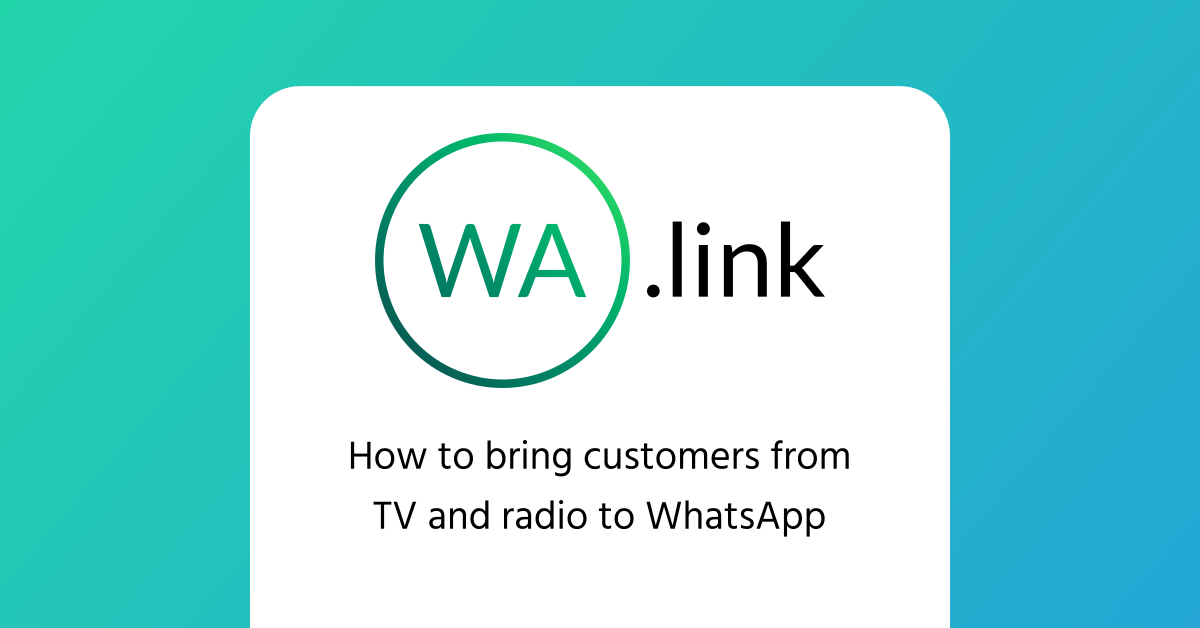 WhatsApp links are usually shared on digital channels like social media, email, and text messages so people can click to chat, but did you know it is possible to get customers in WhatsApp from TV, radio, and even printed media?
Traditional media is very popular for publishing ads to get emails or phone calls but is often overlooked when it comes to get WhatsApp chats. At the beginning of June on Facebook's annual event for developers 2 things were highlighted:
75% of people want to message a business before buying.
64% of people prefer messages instead of emails or phone calls.
The 2 facts confirm that WhatsApp can be an excellent tool to increase sales through traditional media. People want to use instant messages before buying because it is a personalized experience, they are familiar with it, and they use it every day.
Bringing customers to WhatsApp from TV, radio, and printed media requires a simple but different interaction in contrast to digital media because it is not possible to click links. However, being potentially massive audiences it can be a great way to get more clients to your chat, specially when using branded WhatsApp links.
Remember that once a customer is in the chat you have control to make the sale and stablish long term relationships. We recommend you read 10 keys to deliver great customer service in WhatsApp
Create your own branded WhatsApp links like wa.link/MyBrand. Register at Walink Premium and make your business grow with branded links, Multilink page, Multiagent service and more from $6 USD a year.
Benefits of using branded links on TV, radio, and printed media
People remember brands not phone numbers. It's more valuable to share a branded link than a phone number on a screen or radio.
Branded links come with analytics. You can track performance of your links.
You can use a Multilink page. Multilink page allows users to accept your policies before messaging you.
Bring clients to WhatsApp from TV
One of the most used channels to get customers from TV is a phone number, but you already know people prefer to chat instead of calling. Next time you make a TV ad you can share a branded WhatsApp link like wa.link/MyBusiness that you can purchase here to bring clients to your chat and increase brand awareness.
Because you can't click the link here, it is more than necessary that you also share the QR code which is perfect for TV, scanning a code is intuitive and fast, much like clicking a link. Every WhatsApp link you create with Walink comes with a QR code.
You will never have to save another phone number to start a conversation in WhatsApp. With Open Walink enter the phone number or link in the app an start texting in 1 click for free!
Bring clients to WhatsApp from radio
Unlike TV, it is common to lead users from radio to WhatsApp normally by sharing the phone number of the business or radio station. Still, sharing a number has some disadvantages:
Users must remember or take note of the phone number.
Users must save the phone number on their device before sending a message, unless they use Open Walink .
By sharing the phone number there may be some people who call that number instead of messaging. If you only want to use the chat, you will lose some customers.
For those reasons, it is more valuable to share a branded WhatsApp link than simply a phone number on radio, that way the link users will associate it as the official WhatsApp for your business and people can reach you later by typing the link on their browser or even by using our search engine for WhatsApp links.
Find businesses using WhatsApp in your area, simply search by name or description in the WhatsApp links search engine and chat with them in 1 click.
Bring clients to WhatsApp from printed or physical media
Printed and physical media are another alternative that your business should consider to bring customers to your WhatsApp. Like TV, the QR code of a branded WhatsApp links is the key to get more customers into your chat.
The best thing about this is that any format that allows the QR code to be scanned will work no matter where users are, it all really depends on your creativity.
---
📧 Newsletter
Want to keep up with the latest news of Walink? Subscribe to our newsletter and
get a 2x1 discount code on your first 2 links at Walink Premium! 👑