How to create WhatsApp short links
---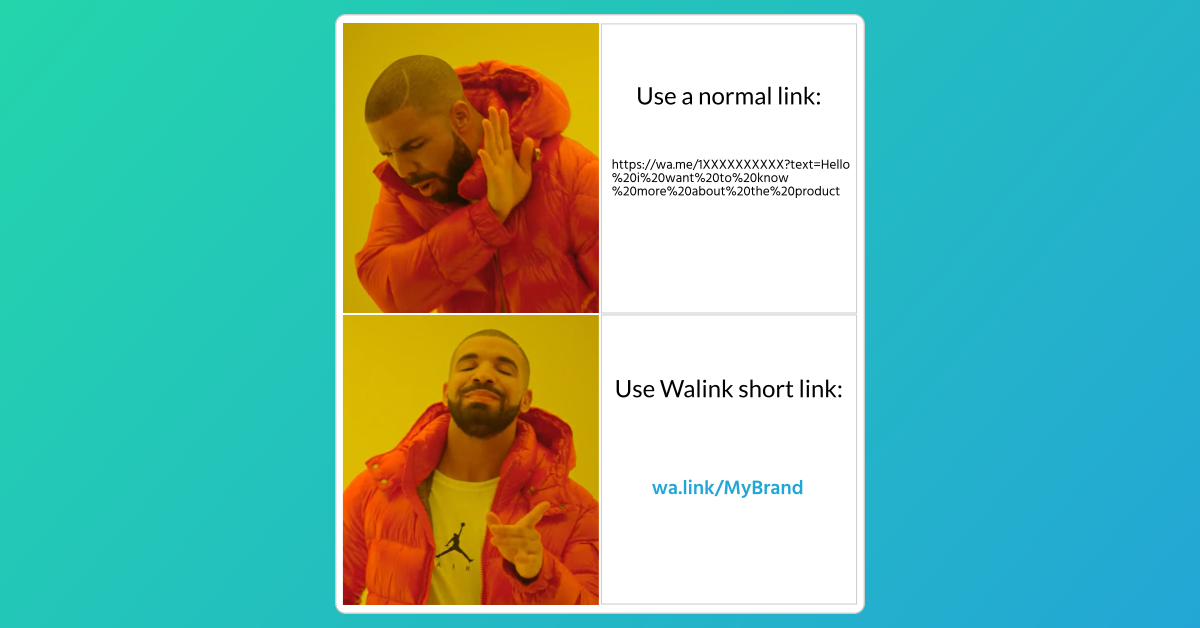 There is no doubt you are reading this article because you saw someone else using this kind of link in their Instagram profile or other social media platform and you want to learn how to create a WhatsApp short link and use it yourself.
Since late 2017 till now the instant messaging app has become one of the most favorite tools for business to provide easy customer support and attract new clients online with a more personalized experience. Thanks to this trend creating WhatsApp short links is now a commercial priority in almost any kind of business.
But first things first: does my business really need WhatsApp? let us give you the answer right now with a resounding YES.
You will never have to save another phone number to start a conversation in WhatsApp. With Open Walink enter the phone number or link in the app an start texting in 1 click for free!
Does your business need WhatsApp?
We mentioned at the beginning of the article that your competition is already using WhastApp short links, or it will soon, if that statement isn't enough to convince you that your business needs the instant messaging app here are some facts about it:
WhatsApp is in 180 countries.
It's a global market with more than 1.5 billion active users.
Since 2018 it has launched business solutions such as:
WhatsApp Business
WhatsApp API
Product Catalog
87% of users prefer to buy products from businesses who reply via WhatsApp.
67% of clients trust brands which they can chat with.
As you can see there is great potential for your business if you start using WhatsApp, even more so because not many companies have implemented it professionally. However take into account that due to COVID 10 situation more and more businesses are starting to adapt and drive sales through this app so there is no time to waste.
How to create WhatsApp links
Now you know the importance of using WhatsApp in your business strategy so it's time you learn what are the alternatives you have for creating a direct access to your chat.
There are 3 main ways how you can create WhatsApp links and we'll cover them all in this article so you'll be the judge in regards of which you should take:
The original and tedious way provided by WhatsApp.
Use the link provided to your account in WhatsApp Business app
Create shortened links using a WhatsApp link generator like Walink's. .
The original (but wrong) way
The reason we are writing this article is because of the existence of WhatsApp's "Click to Chat" feature which, you should know by now, is how a user can have a direct access to someone's chat, in summary the WhatsApp links. Click this link to now more about WhatsApp's "Click To Chat" feature .
if you read about the feature you'll learn that WhatsApp's own alternative is for you to type the full URL, add your phone number and custom message with some special characters for it to work properly. After you do that you can post it wherever you want.
i.e: https://wa.me/571XXXXXXXXXX?text=Hi%20i%20want%20to%20know%20more%20about%20your%20product
At first glance it may not seem like a big deal, you just need to follow some steps and it's ready to use! except for 2 big problems.
This link is way too long to begin with and it also has some random characters that make it really ugly and won't look good when you post it.
To solve that first problem you can use a link shortener but that's an additional step to create the already complicated link, and it is particularly worse if you need to create more than 1 link (i.e: for ad campaigns), it will certainly drain your valuable time.
WhatsApp Business link
If you don't already know about WhatsApp's business solution you can read about it in What is WhatsApp Business.
WhatsApp Business is an essential tool for any business selling or providing customer support in WhatsApp. If by any chance you are not using WhatsApp Business we strongly recommend you to download the app right now to notably increase the effectiveness of your chats.
In the account settings go to "Business tools" once you click the option scroll down and you'll find your account's short link that looks like this:
https://wa.me/message/1ABCXXXXXXXXYZ
This is a much simpler version of the first alternative we described, still a bit long but better. However it's just 1 unique link per account so it is not the optimal solution for someone who wants to thrive in business using WhatsApp.
Create your own branded WhatsApp links like wa.link/MyBrand. Register at Walink Premium and make your business grow with branded links, Multilink page, Multiagent service and more from $6 USD a year.
Create WhatsApp short links with a link generator
Click Here
to go to Walink's free short link generator.
In a few words a link generator is a tool that lets you quickly create as many WhatsApp short links as you need.
Simply fill 2 form fields:
Your WhatsApp phone number.
Custom message.
After you complete the steps the generator will provide you a shortened link and a QR code for you to use wherever you want.
You can learn more about link generators in What is a WhatsApp link generator.
---
📧 Newsletter
Want to keep up with the latest news of Walink? Subscribe to our newsletter and
get a 2x1 discount code on your first 2 links at Walink Premium! 👑