Is WhatsApp Business good for selling products and services?
---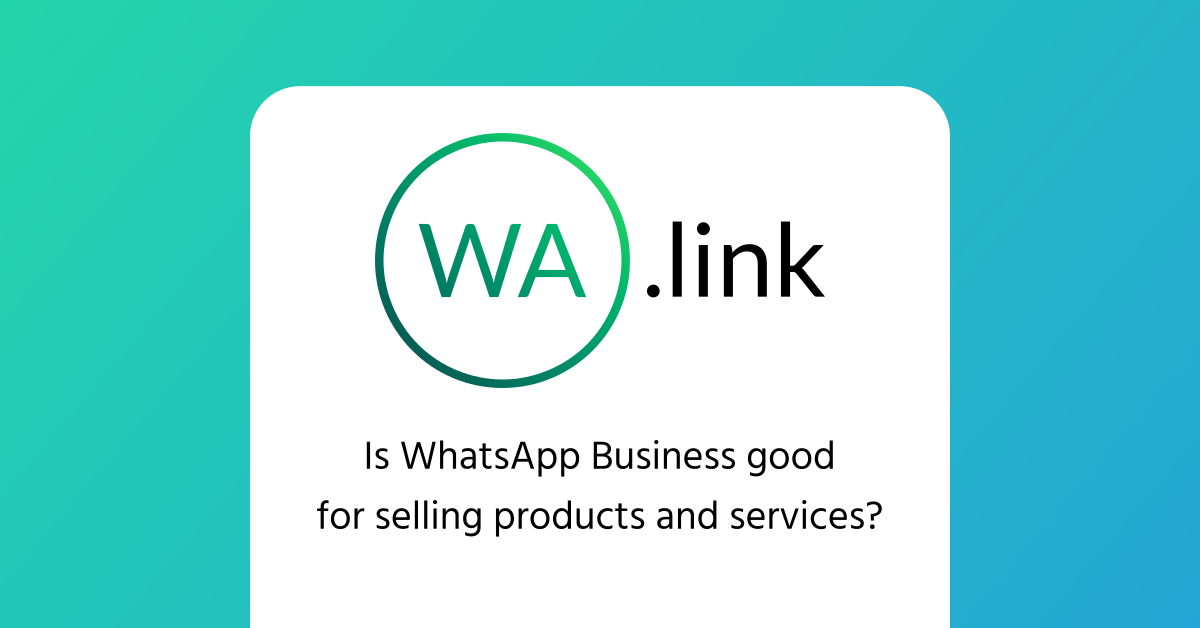 Selling products and services on digital channels has become a necessity since 2020 for businesses around the world. Before that, some used digital platforms as an additional tool in their business, now these are the main source of traffic and sales, allowing business to thrive instead of closing. Better yet, they are now aware that users are looking for personalized customer service and are happy to get it in messaging apps like WhatsApp.
Using WhatsApp for business is nothing new but, is it good for selling products and services?
Before using WhatsApp for your business, you should know this
Before I tell you the reasons why you SHOULD use WhatsApp to sell products and services, it is important for you to know 2 contexts where you should not use the app for that purpose as you wouldn't benefit from it:
Selling on WhatsApp requires to be professional about it, so the first context where you should avoid using the app is if you are not willing to spend time, money and effort doing so to seize its potential.
Not all types of businesses can operate on WhatsApp, so you should avoid the app if your business offers to sell and sales any of the products and services mentioned in this link: WhatsApp Commerce Policy
Find businesses using WhatsApp in your area, simply search by name or description in the WhatsApp links search engine and chat with them in 1 click.
Is WhatsApp Business good for selling products and services?
If you are allowed to use WhatsApp for your business, we will tell you why WhatsApp Business is good for selling your products and services and you need to implement it in your business strategy. Providing customer service in WhatsApp can make a difference not only for sales, but also for long term relationships with your users.
3 reasons to use WhatsApp in your business
WhatsApp has 2 billion monthly active users. If you are considering using the app for your business, we are sure that a lot of people use it in your region and probably many business are interacting with them right now.
If you want to start leading clients to your WhatsApp we suggest you create your own branded WhatsApp link like wa.link/MyBusiness on Walink Premium . An advantage of branded links is that you can enable the search option for them to appear in our WhatsApp links search engine whenever a user looks for a business like yours in your area.
Create your own branded WhatsApp links like wa.link/MyBrand. Register at Walink Premium and make your business grow with branded links, Multilink page, Multiagent service and more from $6 USD a year.
Users are willing to have conversations with businesses that sell products and services in the app.
It's common to see businesses automating every single aspect of their operation and customer journey on their website, and even if automation isn't a bad thing, it is important to understand that users are people that won't always buy something because it is quick and automatic, that they are more prone to buy again and again after getting personalized customer service you can provide in WhatsApp.
It's a flexible tool to deliver customer service and it even has it's business version of the app.
WhatsApp Business is a free tool designed for businesses to strengthen customer service in digital platforms. The app includes features like product catalog, automated messages, quick replies and more that enhance the business operation in WhatsApp. If you want to learn more about it visit: What is the WhatsApp Business app
You will never have to save another phone number to start a conversation in WhatsApp. With Open Walink enter the phone number or link in the app an start texting in 1 click for free!
How to start using WhatsApp Business to sell products and services
Now that you know the reasons for you to use the app in your business, remember you need to do it professionally, so follow the link to learn 10 keys to deliver great customer service in WhatsApp.
After reading that article you can create your own branded links to lead people to your WhatsApp or start by using our free links generator . With the free generator you won't have access to the many features of Walink Premium but it will work for you to provide a quick access to your chat on digital media and even traditional media using the QR code.
---
📧 Newsletter
Want to keep up with the latest news of Walink? Subscribe to our newsletter and
get a 2x1 discount code on your first 2 links at Walink Premium! 👑