Quick replies you need in WhatsApp Business
---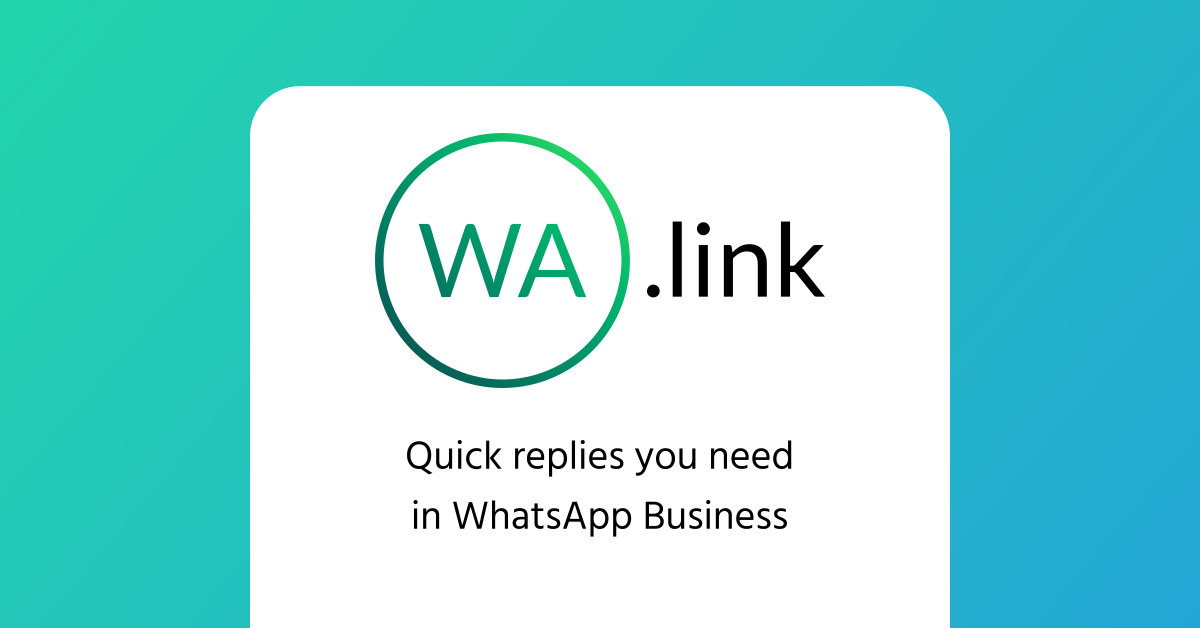 Time management is essential to provide great customer service in WhatsApp and to achieve effective communications specially when your business receives hundreds of chats daily, it is recommended to use the business tools the app provides. Today we want to share a few quick replies you need in WhatsApp Business that you and your team should set up immediately to improve your performance when messaging customers.
How to create quick replies on WhatsApp
First you need to install WhatsApp Business on your device to get access to the business tools including quick replies.
In the business app go to Settings > Business tools > Quick replies, there you can add your quick replies by simply entering the message and a shortcut that will help you quickly send messages on your chats without having to type it single time. The shortcut contains a keyword preceded by a slash: "/welcome".
You will never have to save another phone number to start a conversation in WhatsApp. With Open Walink enter the phone number or link in the app an start texting in 1 click for free!
Quick replies you need in WhatsApp Business
Now that you know how to create them, we will address some quick replies you need in WhatsApp Business to improve your performance an optimize your time when messaging customers. We have separated them in 3 categories so you can determine the type of messages your business needs.
Introductions
Excellent customer service in WhatsApp starts by greeting the user and introducing yourself, we recommend that every agent in your business introduce themselves to each customer so they can have a personalized experience chatting with a real person.
Quick replies for introducing yourself:
Hi, my name is _. How can I help you today?
Hi, my name is _. I'll be helping you today with your inquiry.
Frequently asked questions
One of the most important things in customer service on WhatsApp is to have frequently asked questions written down to answer your customers' inquiries. Now you can add them to quick replies to save some time on each chat. When you add up to hundreds of chats a day you can outperform any other agent just by using shortcuts.
Frequently asked questions:
Pricing
Shipping
Location
Business hours
Details on best sellers
Discounts
Create your own branded WhatsApp links like wa.link/MyBrand. Register at Walink Premium and make your business grow with branded links, Multilink page, Multiagent service and more from $6 USD a year.
Chat control
Finally, we recommend you create quick replies in WhatsApp Business to keep control of your chats according to their life cycle. This will help you identify in your chat feed, which conversations are new (by using the introduction reply), which ones are waiting for response (i.e. when you want to provide some info that is not available at the moment), or when a conversation has already ended.
Messages by life cycle:
Introduction
Waiting response messages
Closing messages
---
📧 Newsletter
Want to keep up with the latest news of Walink? Subscribe to our newsletter and
get a 2x1 discount code on your first 2 links at Walink Premium! 👑